Buttermilk Chocolate Swirl Bread
Annacia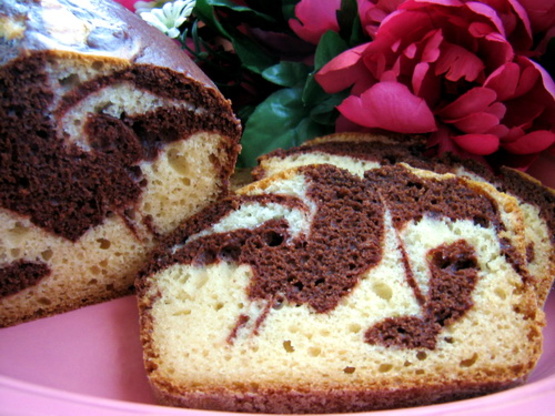 This is good with coffee or a big glass of milk. It is from a Woman's Day feature of lighter coffee cakes although I don't think of this as a coffee cake. Be careful not to overbake or it will be dry.

I'm going to call this a loaf cake and it's marvelous. I used 1/4 cup of sugar a slightly rounded 2/3 cup of Splenda, made sour milk with vinegar and skim milk, used 1 tsp each of vanilla and rum and all 4 ounces of top quality bittersweet. Mine was baked in a glass pan @ 325 for 45 mins and came out perfectly. I can't wait to have a slice with my morning coffee. Thanks Lainey for a real treat. :D
Heat oven to 350 degrees F; coat an 8 1/2 x 4 1/2-inch loaf pan with nonstick spray and flour lightly.
Mix flour, sugar, baking powder, baking soda and salt in a large bowl.
Whisk buttermilk, eggs, egg white, oil and extracts in medium bowl; stir into flour mixture just until blended.
Melt chocolate in microwave on high about 1 minute, stirring every 15 seconds; stir in 1 1/3 cups batter.
Working quickly (chocolate batter will become firm and hard to swirl if you let it stand too long), pour some of the white batter over bottom of pan, then dollop with chocolate batter.
Fill pan by alternating dollops of white and chocolate batter.
Pull knife through batter to swirl.
Bake 1 hour or until pick inserted in center comes out clean.
Cool in pan on wire rack for 10 minutes.
Remove from pan; put cake right side up on rack to cool.
Dust with confectioners' sugar.