Buttermilk Brownies With Frosting
Kate 8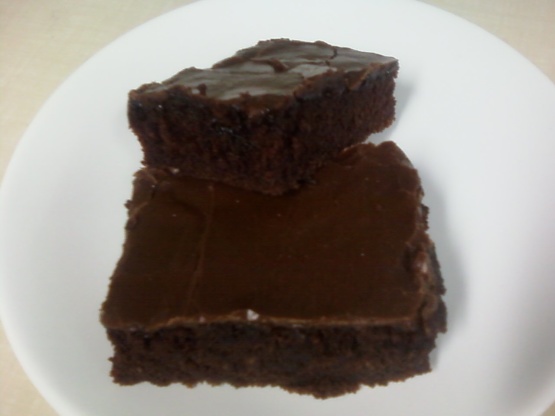 I made these incredible brownies as my brother's birthday cake (11/2005)--friends still remember the taste and ask for the recipe! Taken from BH&G "New Cook Book", 1989.

Made the brownies today and they are similar to the Texas Sheet cake recipe. The recipe was easy to prepare and tasty. Next time I will increase the amount of frosting as it was a bit skimpy. Also, the frosting was a bit dry and I had to add some extra buttermilk to smooth it out. I made half a batch, so perhaps that was the problem.
In mixing bowl, combine flour, sugar, baking soda, and salt. Set aside.
In medium saucepan, combine 1 cup butter, 1 cup water, and 1/3 cup unsweetened cocoa.
Bring mixture just to boiling, stirring constantly.
Remove from heat.
Add chocolate mixture to dry ingredients and beat until thoroughly combined.
Add eggs, the 1/2 cup buttermilk, and 1 1/2 teaspoons vanilla. Beat for 1 minute (batter will be thin).
Pour batter into greased and floured 15x10x1 baking pan. Bake at 350F for about 25 minutes or until toothpick inserted into the center comes out clean.
FROSTING:.
In medium saucepan, combine 1/4 cup butter, 3 tablespoons unsweetened cocoa powder, and 3 tablespoons buttermilk. Bring to boiling; remove from heat. Add powdered sugar and 1/2 teaspoon vanilla. Beat til smooth. Pour warm frosting over warm brownies, spreading evenly. Cool in pan on wire rack, then cut into bars.