Buttermilk-Brown Sugar Cheesecake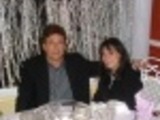 This is a shortcut cheesecake that makes it possible to get a delightful dessert on the table quickly, yet tastes like you slaved for hours. If you have the ingredients on hand, it's great for impromptu entertaining.
Directions
Preheat oven to 350 degrees.
Combine first 6 ingredients in blender and mix until creamy, about 1 minute. Pour into pie shell. Top with almonds and cinnamon.
Bake until lightly browned, about 30 minutes. Cool. Cover and refrigerate until set. Serve chilled.
Reviews
Most Helpful
Ah, how I love recipes that promise a shortcut and a delicious result and deliver on those promises! Time is at a premium for most of us these days, and this is one yummy cheesecake I know I'll be making often when I need to provide a yummy dessert for a family meal or a cake for a morning tea at work - and at a fraction of the cost of buying a ready-made cake. I used crushed granita biscuits for the crust, a standard cheesecake crust for cheesecakes here. Just loved it that once the crust was prepared, most of the other ingredients just went straight into the blender! How easy is that! And loved the texture and great blend of flavours. Thank you so much for sharing this recipe, Jackie! Made for PRMR. :)