Boomette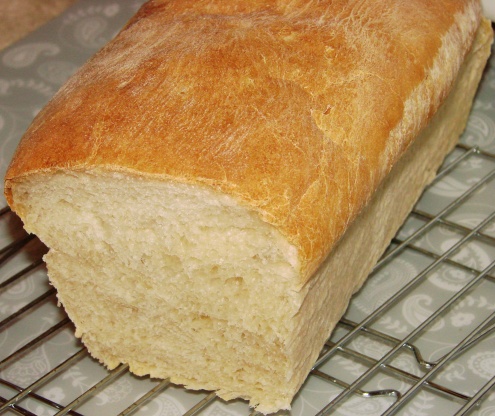 I found this recipe in the 2004 Taste of Home Quick Cooking Cookbook.It was submitted to them by Nita Anderson of Florence Alabama.NOTE:I just used the dough cycle on my machine. After removing dough from machine, it was kneaded just a bit then formed into a loaf,placed into a greased loaf pan then covered with a towel.I left it to rise in a warm place for 1 hour. Then preheated my oven to 350 degrees,baked for 35 minutes or until I heard a hollow sound when it was " Thumped "This recipe makes a 1 1/2 pound loaf of very soft bread. Submitted to Food.com ( A.K.A. ZAAR ) on March 28th., 2011.
I didn't have to add more water or flour in the bread machine. I used the dough setting. Then I shaped it and put in the buttered loaf pan. And let to rise at least 45 minutes. I baked it at 350F for 35 minutes and removed it from the pan. The bread has a great texture as you can see on my photos. The bread is airy and soft. It was very good with butter. Thanks Chef shapeweaver :) Made for your win in Bargain Basement tag game
In bread machine pan,place all ingredients in pan according to your particular model.
Select basic bread setting.( Check dough after 5 minutes, to see if 1 to 2 tablespoons of flour or water is needed.).
Chose crust color and loaf size if available.
Bake according to your bread machine directions.