Buttermilk Blueberry Buckle
Bev I Am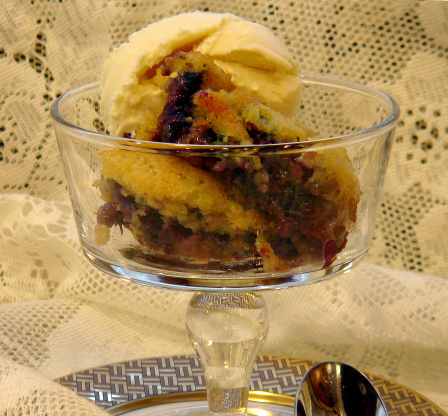 I love blueberries and Blueberry Buckle is a favorite for sure! Be sure to serve fresh from the oven with ice cream or whipped cream. Allowed to cool over 12 hours, the buckle will become mushy. Note: If using frozen berries, be sure to use them frozen, not defrosted. I discovered this recipe at King Arthur's Flour.

My whole family enjoyed this dessert and asked for seconds! Good thing I doubled the batch! Served with some vanilla ice cream on the side, it was absolutely wonderful!
Preheat oven to 375°F.
For Cake: Mix flour, sugar, baking powder, baking soda and salt; set aside. In another bowl beat egg, buttermilk and vanilla; stir in melted butter.
Add dry ingredients, stirring until well mixed.
Spread batter in a well-greased 9x9-inch pan.
Sprinkle with blueberries.
For Topping: Mix topping ingredients until crumbly, then spread over blueberries.
Bake for 45 minutes, or until topping is brown.