Demelza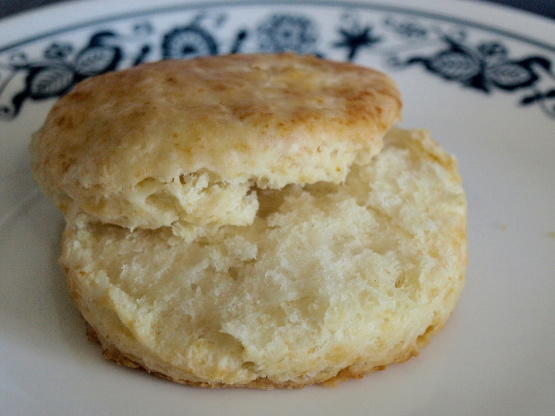 This is my version of buttermilk biscuits. I had looked at lots of different recipes, took what I liked from them & came up with this. I used my food processor, but you could also cut the butter into them by hand if you wanted to. You can use either a cookie cutter or cut these into squares with a knife. Make sure you do not twist the biscuit cutter while cutting the dough. If you do you will glue the edges of the biscuits together & they will not have the flaky splits on the sides. Here is a trick if you want a really smooth top on your biscuit, turn it upside down when you put it on the cookie sheet. They go well with either sweet or savory toppings & fillings. I hope you enjoy them.
Put all dry ingredients in food processor bowl & pulse to combine.
Add butter, process till you have coarse crumbs, you should still have a few pieces that are a little smaller than a pea.
Pour in buttermilk & process till dough starts to come together.
Turn out on floured surface, dust with flour & knead about 10 times to bring all the dough together.
Pat dough out on floured surface to about 3/4" thick.
Dip 3" biscuit cutter in flour & cut as close together as you can.
Place on parchment lined (or greased) cookie sheet.
Bring scraps together, pat out & cut remaining dough into squares with knife.
Brush tops of biscuits with buttermilk.
Bake at 375 for 15 - 20 minutes till tops are golden brown.
Cool on wire rack.