DCKiki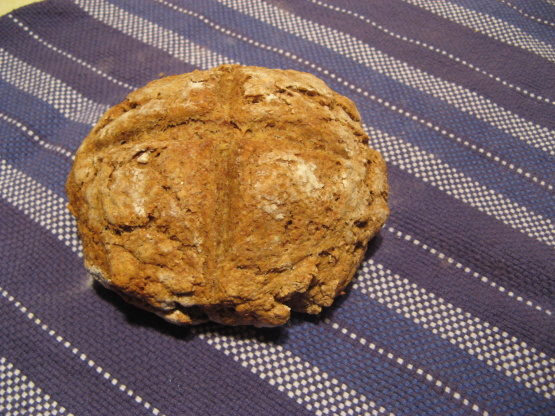 Yummy Scottish bread. Great flavor and naturally low fat! Great bread for sweet or savory uses. I posted this recipe for the Zaar World Tour 2005- Scotland. This recipe was modified by me after experimenting with a recipe by the same name found on page 331 of "Prairie Home Cooking" by Judith M. Fertig, which reads... "This is a simple bread of the dispossessed. Brought to Canada by the Scots who were displace3d from their lands during the infamous 'clearances' of the late 1700's. Bannock would eventually become one of the first breads that Native Americans learned to make when they were confined to reservations in the prairie states......" I pride myself on being both Scottish and American Indian as well as a pretty good genealogist and a history buff. This recipe was well-researched before posting to Zaar as such.

Top Review by DCKiki
This is a delicious, easy, and healthy bread. It was a bit too saltly for my taste. When I make it again, (which I definitely will!) I don't want to mess with the amount of salt though in case the bread doesn't rise properly. It was also very small, only 6 or 7 inches wide. I'm almost certain that it's supposed to be larger though, because this is my first time baking any bread other than banana bread. It would be helpful if the directions were a bit more specific about the size of the loaf though. Thanks for sharing!
Using a wooden or strong spoon mix all dry ingredients together and add 1/4 c buttermilk, adding up to 2T more if needed to make a soft dough.
Shape dough into a round and place on a lightly floured baking sheet.
Cut an X into the top with a very sharp knife.
Spray a piece of foil large enough to cover bread with cooking spray or oil and place over bread.
Bake for 30 minutes at 425 degrees, remove foil and return to oven until top is browned, about 10 minutes.
Cool on wire rack.