VickyJ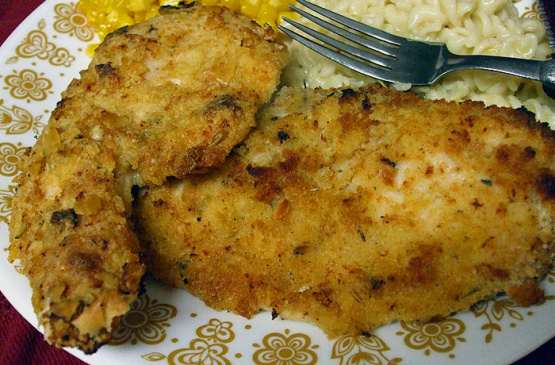 I am so much the cooking show food addict on Saturday afternoon. This is a great recipe that my chicken eating family loves. This comes from the PBS show Everyday Food, which features super simple recipes.

I had p;anko crumbs so used instead of bread. This was a very good recipe. I made my own buttermilk also using vinegar and milk. I used thighs, wings and drumsticks. This was delicious and tasted fried. thanks for posting!
Preheat oven to 400°. Generously rub a baking sheet with oil. In a food processor, pulse bread until it turns into coarse crumbs.
In a large bowl, stir together buttermilk, hot-pepper sauce, ¾ teaspoon salt, and ½ teaspoon pepper. In a separate bowl, mix breadcrumbs, Parmesan, thyme, and 1/8 teaspoon pepper.
Place the chicken in the buttermilk mixture, turning to coat evenly. Working with one piece at a time, remove chicken from liquid, letting excess drip back into bowl; dredge in the breadcrumb mixture, turning to coat evenly. Place coated chicken pieces on prepared baking sheet.
Bake until chicken is golden brown, about 35 minutes.
Leave enough space between the chicken pieces so that they crisp evenly all the way around.