Buttermilk and Shrimp Soup
twissis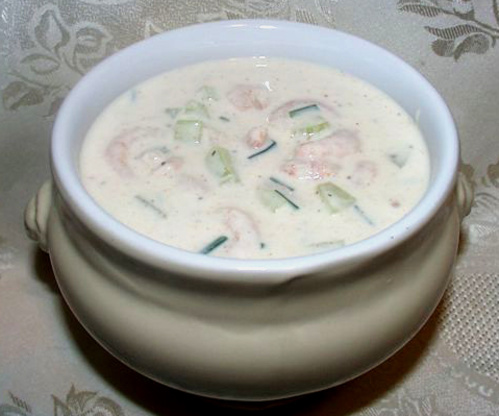 A great soup for a dinner party. Make about 3 to 4 hours in advance and then it is ready to serve when guests arrive. Great for those hot summer days.

I am so in love w/this soup, much more than I already knew I would be. I see this lovely, light & tasty soup as definitely company-worthy, esp as a starter for an otherwise heavy dinner party meal. It also has the advantage of being a make-ahead easy-fix. I made 2 sml chgs - 1 out of pers pref & 1 out of need. Green onions are only available here occ, so I subbed fresh-snipped chives. I also added 1 tsp Old Bay which I usually do in shrimp & crab dishes as I favor the flavor it lends to them. Using half shrimp & half crabmeat would be another excellent variation I cannot wait to try. Thx for sharing this sure to be repeated *winner recipe* w/us. *Yum* :-)
Combine the buttermilk, mustard, salt and sugar.
Add shrimp, cucumber and green onion.
Stir until blended.
Cover and refrigerate for 3 to 4 hours.
Serve in chilled soup bowls.
The cooking time reflects the time to chill the soup.