Buttermilk and Gorgonzola Coleslaw
Janni402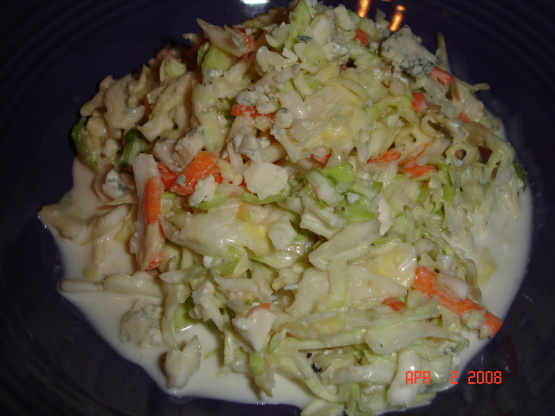 I wanted to kick up the flavor in my buttermilk coleslaw recipe to accompany a spicy pork tenderloin sandwich. The combination was perfect! I set out on a mission to pair this coleslaw with other more traditional coleslaw accompaniments such as burgers and chili dogs. This recipe is a winner!

Top Review by TMoney
This is the 2nd time I tried this recipe and it was great. The 1st time I grabbed the wrong kind of blue cheese and it was too overpowering and I threw the whole thing out. This time I found gorgonzola and three Tbs was just perfect! The dresssing is so good I used it to make deviled eggs (which were another huge hit) and am using it to make a broccoli slaw with raisons & nuts. Thank you for posting!
1

(16 ounce) bag coleslaw mix

2

tablespoons dried onion, minced

1

teaspoon dill, dried
1⁄3 cup white sugar
1⁄2 cup mayonnaise, Hellman's, Best Foods
3⁄4 cup reduced-fat buttermilk

2

tablespoons seasoned rice wine vinegar
1⁄2 teaspoon salt, Kosher
1⁄8 teaspoon pepper, ground black

3

tablespoons gorgonzola, crumbled
DRESSING: In a medium mixing bowl, preferably one with a lid, combine dried onion, dill, white sugar, mayo, buttermilk, vinegar and salt and pepper. Mix well with a whisk or a fork. Set aside for 5 minutes.
*Empty coleslaw mix into a separate bowl, add in 1/2 of the dressing and fold ingredients until all is well incorporated. Store the remaining dressing in a jar with a tight fitting lid and place in the fridge.
Add the crumbled Gorgonzola cheese and gently fold into the slaw mix until completely distributed. Cover and refrigerate for at least 2 hours before serving. Adjust salt to taste before serving and add more of the dressing if you feel your slaw mix is too dry.
*NOTE: After combining the dressing with the slaw mix it may appear dry, but refrain from adding more wet ingredients to moisten. As the slaw sits in the fridge, the salt and sugar within the recipe will draw out the natural water in the cabbage and dilute the dressing naturally. Additionally, you can make the dressing up to 1 week before use and store in a jar with a tight fitting lid in the fridge. When ready to use, simply add the slaw mix and Gorgonzola.