DebS 2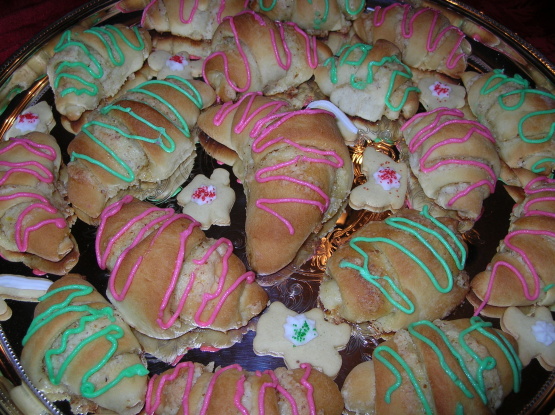 These little buttery crescents are filled with almond paste. They were an Easter tradition started by my grandmother and continued on, now for my family. The recipe was in my grandmothers heart - when she died we thought we lost the recipe until her neighbor lady gave it to her granddaughter - who gave it to me! So now it's back in the family and the tradition lives on!

Although I don't usually go to this much work to make rolls, I actually found the whole process relaxing & enjoyable! After finely mincing the lemon zest, I followed this recipe right down the line & came away with a wonderful smell in the kitchen & a couple of great tasting rolls just devoured! Thanks for sharing your recipe! [Made & reviewed for one of my adopted chefs in this Spring's PAC]
Mix flour, butter, shortening and salt like for a pie crust.
Mix beaten eggs and sugar and combine with above.
Dissolve yeast in 1/4 cup warm water and combine with warm milk.
Add to flour mixture.
Knead and put in a cool place to rise.
Combine butter, lemon, almond extract and sugar; add nuts and eggs to make a paste.
Roll dough thin and cut into triangles.
Spread with almond paste and roll into crescent shapes.
Let rise again.
Bake for 15 minutes in a 375 degree oven.