Butterflied Grilled Chicken with Curry and Cumin
Zurie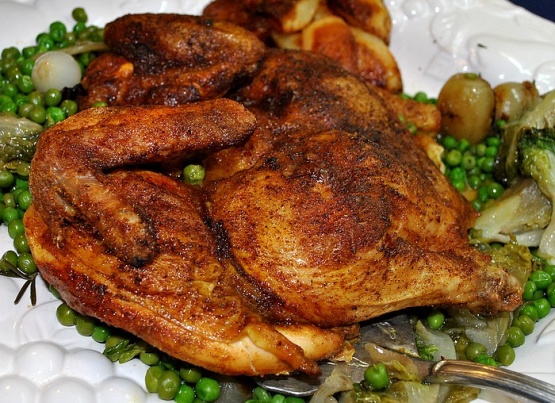 Incredibly easy, incredibly delicious. You've just read the list of ingredients and instructions. This chicken is delicious.

Top Review by Zurie
I've just come from Cape Town with fresh curry, masala, and other Malay spices. I used them for this recipe, and added a little more, as my chicken was about 5 lbs. I butterfly a chicken from the breast side, so I can cut out the large breast bone and rib bones (instead of cutting out the back bone). My chicken was oven-baked, but we were disappointed at the too-mild taste -- we added Tabasco Chipotle sauce and a little more salt. I think your simple recipe is absolutely great, but it does need more ooomph!!! Anyway, thank you, because at least it's a quick recipe!
Rinse split chicken and pat dry, lay on cutting board skin side up and push on breastbone to flatten.
Combine the curry, cumin and salt and rub half of it over both sides of the chicken.
Start at the neck and insert you finger to separate skin from flesh, then season the flesh under the skin with the rest of the mixture.
Let chicken absorb flavors for 45 minutes before cooking.
Grill chicken until internal temperature reaches 165°.
Chicken can alternatively be broiled or baked.