Butterfinger Creme Brulee
PaulaG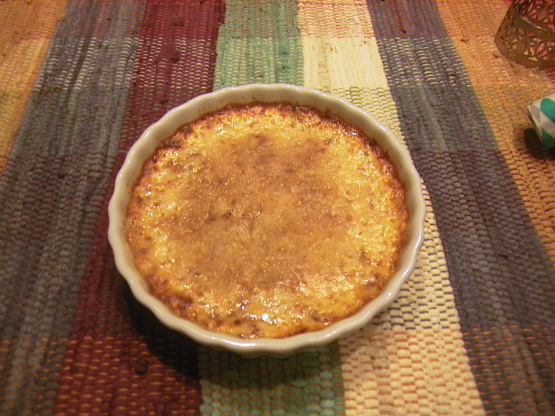 On our recent trip to Alaska, I fell in love with creme brulee. I was surfing the web and found this version. DH loves Butterfinger candy bars. What could be more perfect? This recipe is brought to you by Nestle.

This was my first attempt at crème brûlée and I followed the directions exactly. It was much easier than I expected, but the taste met with mixed reactions around my house. The custard part was sweet and rich with a nice light vanilla flavor and it was sort of peanut buttery on the top and bottom edges. I don't know why it didn't go over better. I'd bet we're among the very few who won't love it, but I don't think I'll make it again myself. Sorry.
Preheat oven to 300°F Sprinkle 1 tablespoon Butterfinger pieces into bottom of four ovenproof 6-oz custard cups.
In medium saucepan, add cream, 7 tablespoons sugar and salt.
Cook over medium heat, stirring occasionally, for 5 to 6 minutes or until sugar is dissolved.
In medium bowl, beat egg yolks; gradually whisk cream mixture into egg yolks.
Stir in vanilla.
Pour the cream mixture through a fine sieve into prepared cups.
Place cups in 9-inch square baking pan; fill pan with hot water to 1-inch depth.
Loosely cover with foil.
Bake in preheated oven for about 1 hour and 30 minutes or until knife inserted in centers comes out clean.
Remove to wire rack to cool slightly.
Refrigerate for several hours or overnight.
Sprinkle each crème brûlée evenly with remaining sugar.
Place under broiler until sugar is melted and caramelized.
Refrigerate for 10 to 15 minutes or until caramel hardens.
The cooking time allows for the creme bulees to sit overnight.