Buttered Snow and Green Peas
averybird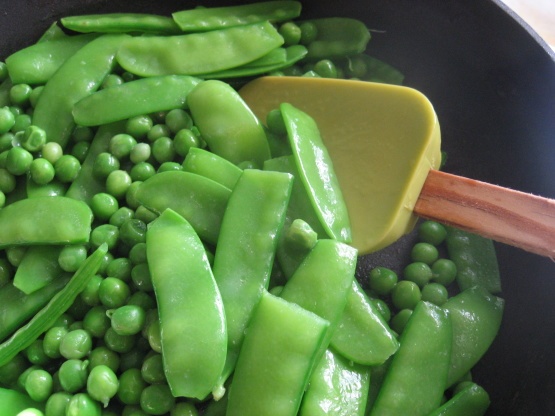 A buttery mix of both snow peas and green peas that can be flavored with either chives or mint. Our family is divided half want mint and half want chives.

All I could find was fresh sugar snap peas so I used those and the frozen peas. Wanted to try the mint as I have it fresh at the moment but DH tossed a hissy fit and wanted to know what was wrong with "buttered peas period!". Loved the texture and the fresh pop. I'll me making these again very soon and putting in the mint and DH can have pancakes :D
Blanch peas in boiling salt water for no more than 1 minute. Drain and rinse under cold water.
Melt butter in large skillet. Add peas; season to taste with salt and pepper. Stir over medium-high heat until hot about 1 to 2 minutes. Do Not over cook.
Put in serving bowl and sprinkle with either chives or mint.