Buttered Noodles With Ham
Prep 15 mins
Cook 15 mins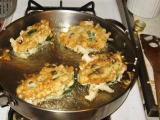 Do you have some leftover baked or deli ham? This is a great way to turn it into a family home-cooked meal. The recipe comes from Clover Valley Foods (dry pasta producers) and is an inexpensive solution to producing an easy, good-tasting and filling supper. Preparation time includes cooking the noodles. Enjoy!
Directions
Heat the olive oil in a large skillet over medium heat and saute the onions for 4 minutes.
Add the garlic and saute for one additional minute.
Add the ham, spices, and herbs and then cook for 5 more minutes.
Add the ham blend to the cooked noodles in a large cooking pot and stir carefully.
Add in the butter and Parmesan cheese and simmer over low heat until butter and cheese have melted. Serve.
Most Helpful
The ham mixture in this recipe is out of this world, but when combined with the noodles the noodles just overwhelm the ham, and all you taste is the noodles. Next time I make this I would cut the noodles about in half. The ham mixture would also make a fantastic frittata base, I think.
GREAT recipe! This is so easy to make. I made this for my caregiver and he loved it. Because we are vegetarian, we used a soy ham product that we cut into cubes and also used a soy cheese. I also added a touch of soy milk to make it a little creamy. Thanks for a nice and easy recipe.