Buttered Noodles With Garlic and Sun Dried Tomatoes
flower7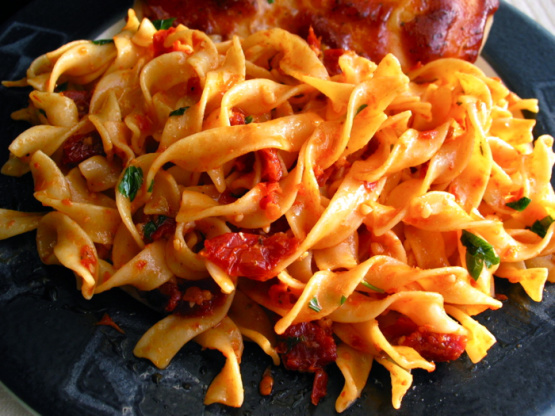 I was making Shrimp Scampi on evening and forgot about a side dish. I raided the cabinet and refrigerator and this is the result. It was a big hit. We really like garlic, so you may want to back off on it.

Very nice quick pantry sauce! I had a little over 4 oz medium egg noodles I wanted to use up so halved this recipe but used a full Tbsp tomato paste and 3 oz tomatoes. A little oily from the jarred tomatoes but good flavor. Served with recipe #456457 and recipe #458827. Thanks for sharing!
Melt butter in small sauce pan.
Add garlic and cook under low heat for about five minutes.
Add tomatoes and tomato paste and stir until well blended.
Combine noodles, sauce and chopped parsley in a large bowl. Toss until well mixed. Salt and pepper to taste.
Serve immediately.