GaylaJ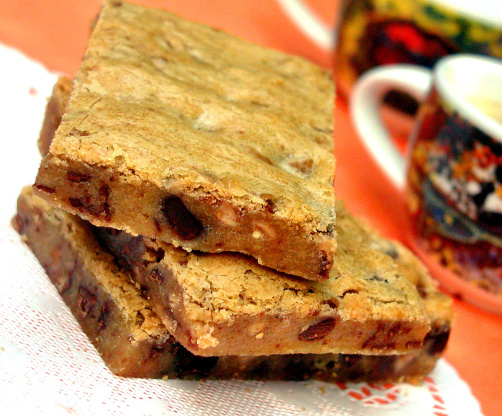 This recipe comes from an old church cookbook. And although I'm a fan of chocolate,these yummy bars are scrumptious!

These brownies are gooey and chocolate loaded. I also used butter instead of margarine and 4 toffee candy bars. Very good brownies, I will make these often.
Preheat oven to 350.
In a large bowl, beat the margarine, white and brown sugars together until fluffy.
Add eggs and vanilla, beat well.
In another bowl, sift flour, baking powder, and salt.
Add to the creamed mixture, stirring well.
Fold in butter brickle bits, and chocolate chips.
Spread in a greased 9x13-inch pan.
Bake for 25-30 minutes.
Can be frosted with chocolate frosting.