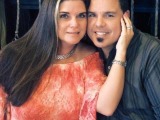 This is an easy cake to make because it starts out with a cake mix!
Directions
Preheat oven to 350 degrees.
Grease and flour a 12-cup Bundt pan.
Beat dry cake mix, pudding mix, water, butter, eggs and 2 teaspoons rum extract in large bowl on low speed for 30 seconds.
Beat on medium speed 2 minutes.
Pour into Bundt pan.
Bake 50 to 60 minutes or until toothpick inserted in center comes out clean.
Cool 30 minutes; remove from pan.
Cool completely; about 2 hours.
Frosting:.
Place frosting in small microwavable bowl.
Microwave uncovered on Medium (50% heat) for approximately 15 seconds.
Stir in 1/2 teaspoon rum extract.
Spread over top of cake, allowing some to drizzle down side.
Sprinkle pecans over top of cake.
Serve.
**Cook time does not include 2 1/2 hour cooling time.
Most Helpful
This is an excellent butter rum cake that was easy to put together and resulted in a delicious and moist cake with just a hint of rum flavor. I like how the rum extract does not overpower the overall taste of the cake; it just enhances it. I used my star bundt pan which made it look very elegant. The frosting is just perfect with this cake and, again, that hint of rum extract is delicious. I did omit the pecans only because my kids wouldn't eat it if I put them on. Thanks for the wonderful recipe Juenessa.
This is an excellent cake. The only reason I'm not giving it 5 stars is because it doesn't turn out to be a pound cake. It's light, fluffy and very high. The aroma while it's baking is out of this world and DH says that it's one of the best tasting cakes he's ever had. Expecting a dense pound cake I made a chocolate caramel sauce to top it with in place of the more fluffy frosting. I think the frosting would have been a better choice with this cake. It's very easy to make and requires no special skills.

A delicious moist cake. Very simple to make. Thanx.