Bev I Am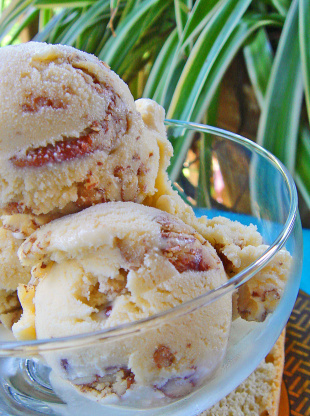 The way Butter Pecan Ice Cream was meant to taste!! This ice cream is so creamy and delicious you will never want to buy it again!! My suggested serving is with Caramel Sauce (see recipe I posted Caramel Sauce). From The Inn at Little Washington. Cooking time reflects freezing time.
In a large skillet, melt the butter over medium heat.
Add the pecans and saute until the butter begins to turn golden brown.
Remove the skillet from the heat and strain the butter into a stainless steel container and reserve.
Cool to room temperature.
Reserve the pecans in a separate container.
In a 2 quart heavy bottomed saucepan, combine the milk, cream and 1/2 cup of the sugar.
Heat until just scalded.
Do Not Boil.
Remove from the heat and set aside.
In a large stainless steel bowl, whisk together the egg yolks and the remaining 1/2 cup sugar until well blended.
Place the bowl over boiling water (or use a double boiler) and, whisking constantly, heat until hot to the touch, about 110 degrees.
Slowly add the scalded milk mixture to the yolk mixture, whisking constantly.
After thoroughly mixing, strain through a mesh strainer into the reserved butter and whisk together.
Chill in the refrigerator, then freeze in an ice cream machine according to the manufacturer's directions. When the ice cream begins to stiffen, sprinkle in reserved pecans and continue to churn until the nuts are evenly incorporated and the ice cream is thick.
To serve: Serve the ice cream in individual dishes topped with Caramel Sauce (see recipe I posted recipe #117551).
Makes 8-10 servings.