Boomette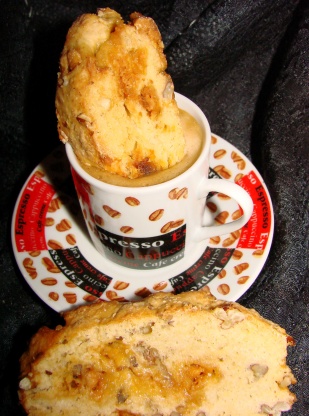 The holidays are here and I was looking for a cookie selection to use a bag of butterscotch baking chips and at the same looking for a biscotti recipe. Decided to join the two ideas and then couldn't find a recipe, so I decided to make my own. Personally, I like to keep the nuts in my biscotti fairly large because I like the way they look when you slice the logs. Chopped works just as well.
I did a few changes and they turned out great. I love the butterscotch flavor. I omitted the butter and used unsweetenend applesauce. I used splenda and splenda brown sugar. I didn't do the glaze to reduce calories and also we like our cookies, biscottis without glaze. Thanks Toni. Made for Holiday tag :)
Heat oven to 350 degrees. Line cookie sheet(s) with parchment paper.
Beat butter and sugars at high speed until blended. Add eggs and vanilla and continue to beat until the sugar grains are dissolved and the batter forms ribbons when falling off the beaters.
Stir together flour, baking powder and salt in a separate bowl. Gradually add the dry mixture to the wet ingredients until smooth, stiff and a little sticky. Using a wooden spoon, mix in 1 cup butterscotch chips and 1 cup pecans. (Note: if you have a very sharp knife that will cleanly cut through the nuts without breaking the cookie, then you can leave the nuts as large as you like. Otherwise, consider chopping the pecans into smaller pieces.).
Divide dough into fourths. Take each quarter and shape into logs about 8 inches long. Smooth the dough so that the logs have a uniform thickness from top to bottom, square off the tips of the logs as well. Place onto the parchment paper two inches apart flatten the tops slightly. (Note: this yield a nice 2-3 inch cookie suited for holiday trays and smaller bites. If you prefer a larger dunking biscotti, create just 2 or 3 logs and adjust cooking time accordingly.)
Bake 20 to 25 minutes or until logs are set and wooden pick inserted in center comes out clean. Remove biscotti from the oven and let cool on cookie sheet(s) 15 minutes. Transfer to cutting board.
Using serrated knife or a very sharp chefs knife, cut logs diagonally into 1/2-inch wide slices. A slight sawing motion may help with the cutting here. Place slices close together, cut side down on ungreased cookie sheet. Return to oven and bake 5 to 6 minutes. Turn each slice; bake an additional 5 to 8 minutes. Remove from oven; cool slightly. Remove from cookie sheet to wire rack. Cool completely.
Melt remaining butterscotch chips with shortening in a double boiler or in a microwave. Drizzle over each cookie.