Butter Lettuce and Herb Salad
COOKGIRl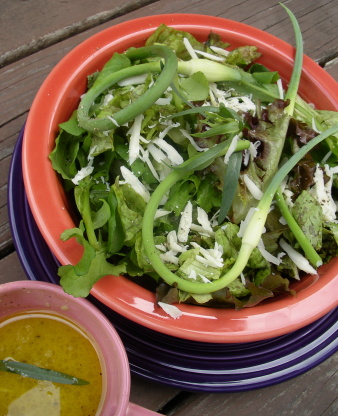 This salad can be made in advance to save time by assembling the greens and making the vinaigrette. Refrigerate them separately for up to several hours and combine just before serving. Adapted from a website that specializes in making life simpler.

Not necessarily colorful but packed full of nutrients and flavor! I replaced some of the butter lettuce with fresh organic arugula and replaced the green onions with garlic whistles/scapes. The salad was served with Recipe #29448 and Recipe #302136 for a very tasty meal! Reviewed for ZWT 2009.
In a large bowl add the fennel, lettuce, tarragon and scallion. Set aside.
Add lemon juice, mustard, salt, and pepper to a small bowl and whisk together.
While whisking constantly, slowly add the oil. When well combined pour the vinaigrette over the salad and toss to coat. Top with the Pecorino if desired and serve immediately.