Tisme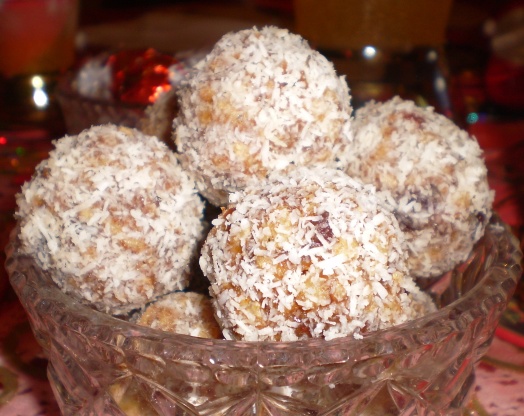 I have got this recipe in a cookie exchange party. One of my favorite Christmas events. These no-bake cookies are amazing even if you don't fancy dates you will enjoy them. They are buttery little crunchy and easy to make.

Top Review by katew
I had a few problems here - pantry problems not problems with the recipe. I had to use half dates, half sultanas and my rice bubbles did not quite stretch and I needed to use 1/2 cup oats. I rolled some balls and pressed some mixture into a tin like a bar slice. I headed off to Costco to get more coconut for rolling plus other items and on my return found that the vultures had visited. Two balls remained and two pieces of my slice. I took a photo of the remains - see above. My result was obviously successful and addictive.
In a large pot melt butter and when it starts to clarify - smells good add sugar, dates, egg mix well bring to full boil and cook for 1 minute.
Stir in cereals, 1cup coconut, cherries, vanilla.
Stir with wooden spoon until all ingredients comes together.
Let it sit for 10 minutes.
Moisten your hands with little bit of water and make small balls.
Roll in coconut.
Keep in refrigerator in covered container.
Can be made one week ahead.