Butter Crunch Cheesecake Bars
Kim127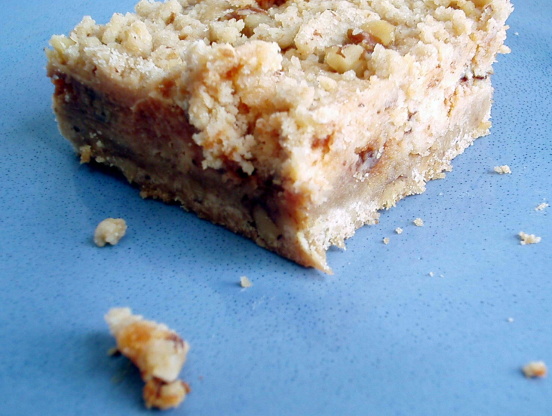 If you like Butterfingers candy and cheesecake this is for you! I have heard it said that this could use more sugar. I think it depends on just how sweet your sweet tooth is. Taste and add more if you think it would benefit. *PLEASE NOTE:There is a final filling ingredient that the Zaar computer doesn't like and keeps refusing to publish. This is: 6 small chocolate crispy peanut butter flavored candy bars (like Butterfinger), chopped into medium sized pieces.
This was really good. I added half a cup of dark brown sugar to the filling along with two more butterfingers. It came out perfect. Thank you.
Heat oven to 350 degrees.
CRUST:.
In bowl, beat butter with mixer until smooth and creamy, 1 minute Add sugars, beat 3 minute until fluffy.
Beat in flour.
Beat in nuts until just incorporated. Reserve 1 cup mixture.
Press remainder over bottom of ungreased 13x9x2 inch baking pan.
Bake crust 10 minute Let cool.
FILLING:.
In bowl, beat together cream cheese and sugar with mixer until smooth.
Add vanilla and eggs, beat for 2 minute.
Fold in candy bars (see into description above).
Spoon over baked crust. Sprinkle reserved crust mixture over top.
Bake for 30 minute until cheesecake layer is set.
Let cool.
Cut into 16 bars.
Serve, or cover and refrigerate.