CoffeeB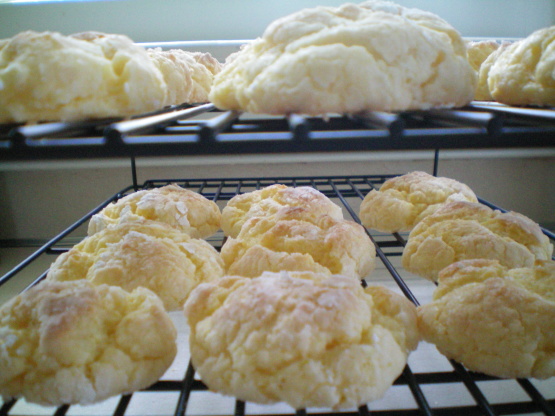 I got this recipe from a friend that I work with a couple of years ago. This is one of my DH favorite recipes. Overnight refrigeration not included in time. I am guessing on the amount of cookies because it would depend on the size that you make them.
These are an adorable cookie that goes together so fast and is so so yummy and gooey. Reminds me of Paula Deen's ooey gooey cakes and cookies she makes using almost the same ingredients. This wouldn't be for those watching the calories or fat intake. :-) A great recipe to give or bring anywhere this time of year too. I feel this could be very versatile with any type of cake mix used. Thanks nana~ Made for June 08-Camera-less-Chef.
Combine all ingredients in mixing bowl. If using a hand mixer, I would mix everything except the cake mix together first.
Chill dough overnight.
Heat oven to 350 degrees.
Roll dough into balls. Rolls balls into powdered sugar. Bake on ungreased cookie sheet for 10 to 12 minutes.
Cool on cookies sheets 2 minutes and remove to cooking racks.
Delish!