ChefLee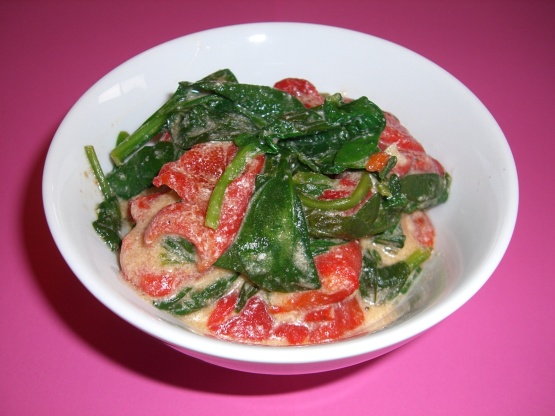 I made this up because I always have leftover buttermilk from baking. I thought it was a new, lower fat twist on creamed spinach. Everyone that eats it thinks there is cheese in it until I tell them what the ingredients are. Please use fresh spinach, frozen is too watery. Hope you enjoy!

I love spinach and I loved that I could also use up some left over butter milk. I did use frozen spinach that I defrosted and squeezed the extra liquid out of. I also added a teaspoon of sugar to cut the buttermilk. If I had some leftover buttermilk I would make this again.
1

(9 ounce) bagfresh Baby Spinach

1

(12 ounce) jar roasted red peppers, drained

1

tablespoon butter

1

cup buttermilk

1

jalapeno, seeded and chopped fine

2

garlic cloves, crushed and easy chopped

1

tablespoon flour (I like to use whole wheat)
In a large skillet, melt the butter.
Add jalapeno, garlic, and roasted red peppers then saute for 3 minutes on med.-hi heat.
Add the buttermilk and stir very well.
Keep sauteeing on med.-hi heat for 1 more minute.
Add flour and stir well.
Add spinach and cover skillet with a lid until the spinach wilts, about 1 minute.
Remove lid and stir well to coat.
Stir for about 1 minute more then serve!