Rita1652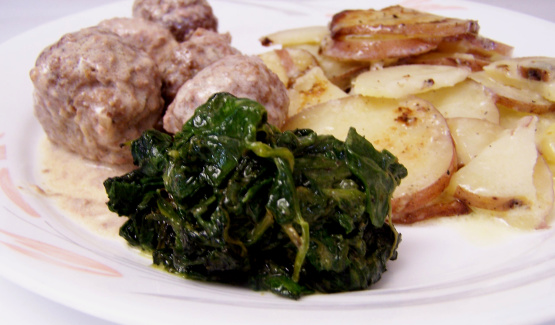 A rich spinach dish, a little goes a long way.

Leslie! This was sooooooooooooooooooo good! My Hubbie, never likes anything, but this, he took seconds! Can't wait to make again! We both devoured it! My only problem was since I was cooking for just two, I just threw in 2 handful's of Spinach and guessed at the butter and cream. Way to small of an amount! I forgot how spinach shrinks down. Thank you again, beautiful recipe!
2

bunches fresh spinach
1⁄4 cup butter
1⁄4 cup whipping cream
salt & freshly ground black pepper
Wash spinach well. With water clinging to leaves place in pot and cook, covered, on medium heat, for 5 to 7 minutes or until spinach is wilted.
Drain well, rinse with cold water and squeeze out any moisture.
Heat butter in skillet on medium heat until sizzling. Add spinach and sauté gently until spinach absorbs butter.
Add cream and bring to boil. Cook until cream is reduced and spinach is a thick mass.
Season well with salt and pepper.