Butter-Bean Puree Appetizer
ChefDLH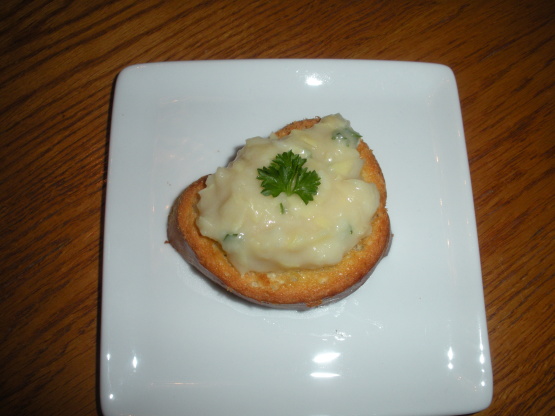 This is a recipe from a Taste of Home cookbook magazine Dec. 2009. It is a super recipe that is perfect for a party. It looks elegant and sophisticated yet tastes simply divine.This recipe makes a lot so plan accordingly. Serve to your guests and get "ooohs and aaahs." They will guess hummus but be surprised by this unique flavor. Enjoy ChefDLH
Preheat oven to 400 degrees.
Brush bread slices with olive oil and place on baking sheet.
Bake until lightly golden 7 to 10 minutes.
In a work bowl of a food processor combine 1 can butter beans undrained , 1 can butter beans drained and garlic and pulse until smooth.
In a large bowl combine artichoke hears,lemon juice and 1/4 cup parsley.
Add bean mixture to bowl, stirring well.
Spoon onto toasted bread slices.
Top with lemon zest and additional parsley.
Drizzle with remaining olive oil.
enjoy.