gailanng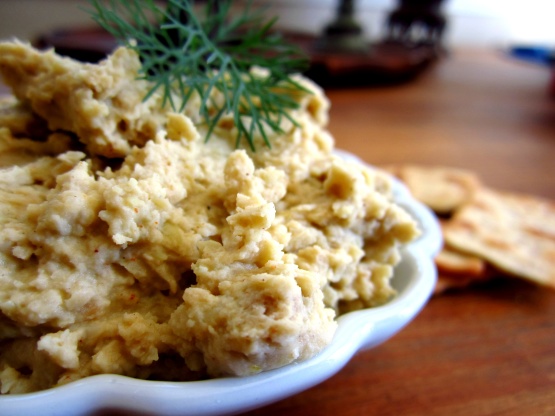 Like Zaar needs another hummus recipe.......But-this is different cause it's made from butterbeans (Lima beans) instead of the usual chickpeas. Found the recipe on the net a while back and have made it many times since then. Thought I'd share it.
Soak the beans overnight in plenty of water.
Drain and discard the soaking water.
Put the beans in a pot and cover with cold fresh water.
Bring to a boil and then simmer, partially covered, until they are very tender but not mushy.
Remove from heat and drain, reserving the cooking liquid.
Put the beans in a food processor fitted with a steal blade.
Add garlic, tahini, salt, pepper, and cayenne.
Puree this mixture, and with the motor running, slowly pour in the olive oil and lemon juice.
If the puree is too thick, pour in a little of the reserved cooking liquid until the puree is silky smooth, I use up about one cup of the cooking liquid.
Taste for seasoning and add more salt and cayenne if desired.