diner524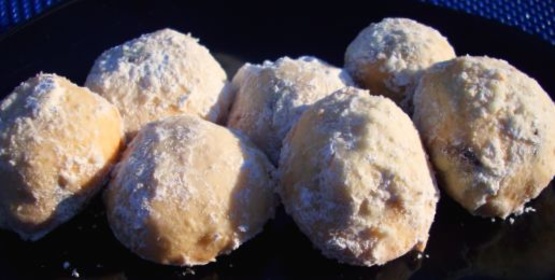 This cookie is a must during the Holidays. Simple to make. You can vary the recipe by replacing walnuts with cashews, pecan or some time I mix in chocolate chip or butterscotch chips.

We have made this cookie for years at Christmas time. Try rolling them while they are still fairly hot in the powdered sugar. After they've cooled, roll them again through the powdered sugar. The first coating will melt and stick to the cookie and the second will add a nice finish. Also, the second coating of powdered sugar will help balance the saltiness if you use salted butter. In fact, we always use salted butter. Unsalted butter in this recipe tends to render them extraordinarily bland. And, this should be a 'crumbly' cookie - it is essentially a shortbread cookie. Crumbly in this case is a good thing. They freeze beautifully, too. Just be sure to use freezer bags as opposed to regular bags so they don't pick up other flavors or odors from other foods stored in your freezer.
Cream butter,sugar, salt and vanilla.
Blend in flour and nuts.
Scoop and roll into balls.
Bake 325 for 22 to 25 minutes.
Remove from oven roll into powdered sugar.