Pneuma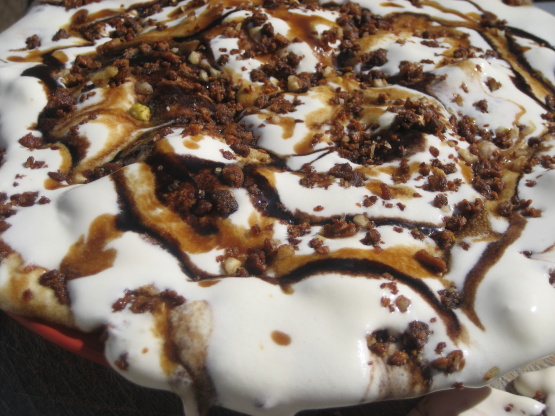 Starting with refrigerated pie crust, this no-fuss ice cream pie goes together easily, yet yields a first-class dessert that features peanuts as well as fudge and caramel toppings. From Pillsbury, in celebration of Pi Day. Cooking time is freezer time.
Crust

1

pillsbury refrigerated pie crust, softened as directed on box (from 15-oz box)

Filling

4

cups vanilla ice cream, slightly softened
1⁄2 cup caramel topping
1⁄2 cup fudge sauce
3⁄4 cup Spanish peanut (4 oz)
additional peanuts, if desired
Heat oven to 450°F Bake pie crust as directed on box for One-Crust Baked Shell, using 9-inch glass pie plate. Cool on cooling rack 15 minutes.
Layer 2 cups of the ice cream in crust. Drizzle with 1/4 cup of the caramel topping and 1/4 cup of the fudge topping. Sprinkle with peanuts. Layer remaining 2 cups ice cream over peanuts. Freeze 4 hours or overnight.
Drizzle individual servings with remaining caramel topping and fudge topping. Sprinkle with additional peanuts. Cover and freeze any remaining pie.