Buster Bar Dessert (Ice Cream Cake)
livie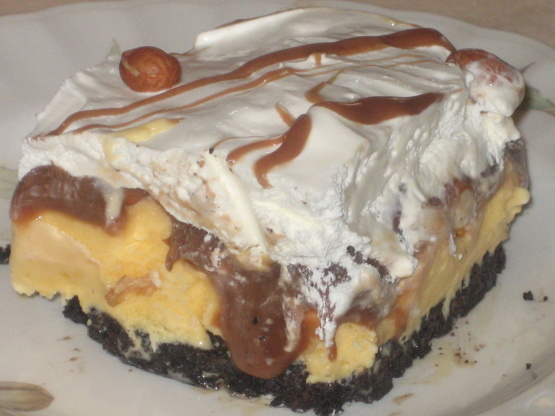 This frozen sweet treat is so rich and delicious. It has become a very requested cake for birthdays and special occasions. There are never any leftovers!
Quite good! I used light butter, slow-churned ice cream, lowfat evaporated milk, and lowfat Cool Whip. All of my guests enjoyed it, though the kids didn't like the peanuts in it.
Combine cookie crumbs with the melted butter till well coated.
Press into bottom of a 9x13 inch baking pan.
Place in freezer 15 minutes.
Spread the softened vanilla ice cream over the chilled cookie crust.
Sprinkle salted Spanish peanuts evenly over ice cream.
Place cake back into freezer.
For the chocolate fudge sauce melt butter over medium heat with powdered sugar and evaporated milk.
When melted add chips and whisk till smooth.
Let come to a boil; boil 8 minutes whisking occasionally till thickened. (make sure to watch boiling sauce carefully so it does not boil over).
Take off heat and and whisk in vanilla.
Let cool to room temperature. (may place pan of chocolate sauce into a large bowl with ice to chill down faster).
When cooled pour chocolate sauce over top of ice cream and peanuts.
Freeze 15 minutes.
Carefully frost top of cake with Cool Whip and garnish with extra peanuts (may also reserve 1/4 cup of chocolate fudge sauce to drizzle for garnish as well).
Cover with tin foil and freeze overnight.
Let sit out 10 minutes before slicing and serving.