Boomette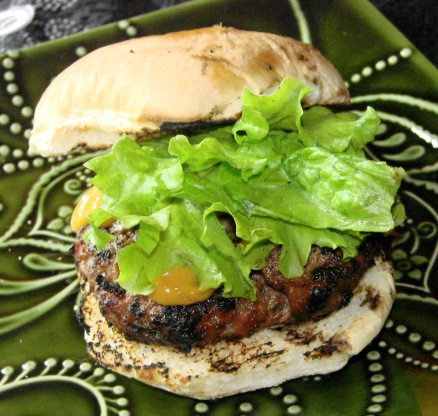 These burgers have evolved over a very long time of trying different ingredients and techniques. They got the name "Bushka Burgers" a slang Russian name given to me by my Russian husband in my efforts to produce the perfect burger. They are moist, juicy and big on flavor. Serve them with your favorite burger garnishes and watch them disappear!

These were the best burgers bar none that I have ever had. They were thick, juicy and incredibly flavourful. I particularly like the addition of the liquid smoke. I had no trouble envisioning these cooked over the glowing embers a good hardwood fire rather than the urban electric BBQ that lives on my balcony. I appreciated your handling instructions as well, definitely a bonus in producing the look of the ultimate burger. I topped them with caramelized onions and nested them on home made buns...fantastic! Thank you Charlene.
COMBINE in a large bowl, the beef, egg, onion, garlic, ketchup, 2 tbsp butter, parsley, Liquid smoke, Dijon mustard, Worcestershire sauce, salt and black pepper. (Do not overwork the mixture, otherwise your burgers will be tough.)
FORM into 8 equal-sized flatter patties. Separate each burger with wax paper, stack and put into the freezer to firm them up.(This helps them to cook evenly and stay together.)
PREHEAT grill to medium-high.(Apply a little vegetable oil to the grate before you fire it up and your burgers won't stick to the grate.)
GRILL burgers to desired doneness turning only once.
BRUSH burger buns with the remaining ½ cup melted butter and grill cut side down until crisp and golden brown.