twissis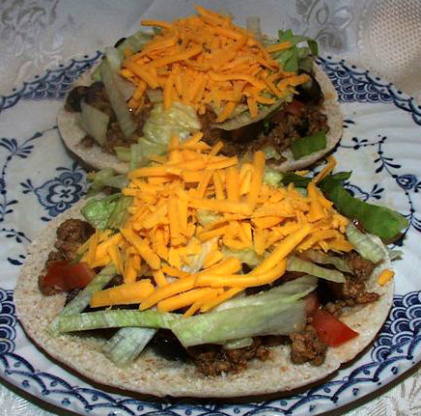 These hand-held pockets are filled with flavor and make an easy, eat-and-run entree for summer outings, too. TASTY TIP: For a change of pace, top with guacamole and sour cream or serve with tortilla chips, salsa and refried beans.

I really tried to get the volume of ingredients into 2 halved pita pockets, but I could not manage it ... so I used 2 pitas & made then into 4 tostadas & that worked perfectly for 2 of us. They were like comfort food for this Tex-Mex lover formerly from Dallas. I loved ea bite & would not chg a thing except to maybe add avocado if I happened to have it on hand. I added a dollop of sour cream to my tostadas after pics were taken, but DH preferred his plain. IMO, add 1 pita pocket, leave all else the same & this recipe easily serves 6 in pita pockets as written. Thx for sharing this tasty low-cal recipe w/us. :-)
In a large nonstick skillet coated with nonstick cooking spray, cook beef over medium heat until no longer pink; drain. Stir in burrito seasoning and water. Bring to a boil. Reduce heat; simmer, uncovered, for 3-5 minutes or until thickened. Stir in olives.
Fill pita bread halves with beef mixture, lettuce, tomato and cheese.