ChefDLH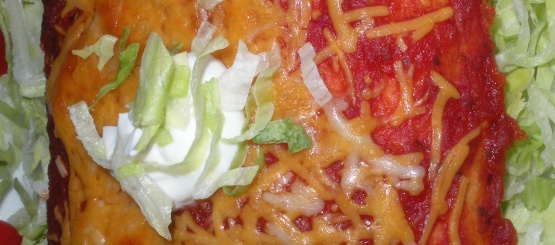 This is a great appetizer for six people. It is easy to make and looks delicious and smells that way too. It comes from the 2009 Pillsbury Easy Mexican Meals cookbook magazine that you get in the stores by the checkout. I love recipes that are basic and you can learn something fun and be able to tweek it to your own. This is such that type of appetizer. You can make it as is, double the cheese, add different meats, sauces, veggies, etc and transform it. I enjoyed learning how to make such a big burrito. I enjoyed it the way it is written and adding one's own twist. My guests consumed it quickly. I served with shredded lettuce, grape tomatoes and sour cream. Enjoy! ChefDLH
Heat oven to 375°F
Spray 15x10x1 inch pan with cooking spray.
In a 10 inch skillet cook sausage over medium high heat until well browned.
Drain the meat. Add chili beans and cumin and mix well.
Place tortillas overlapping down one side of the pan.
Spoon sausage mixture down center of the tortillas and sprinkle with 1 1/2 cups of cheese.
Roll tortillas over sausage mixture to create one large burrito seam side down.
Spoon taco sauce over burrito, sprinkle with remaining one cup cheese.
Bake 15 to 20 minutes or until hot.
To serve cut the burrito into slices.
Serve on shredded lettuce with sour cream.