Burrata Artichoke Tartines With Roasted Lemon Mint Pesto
Food.com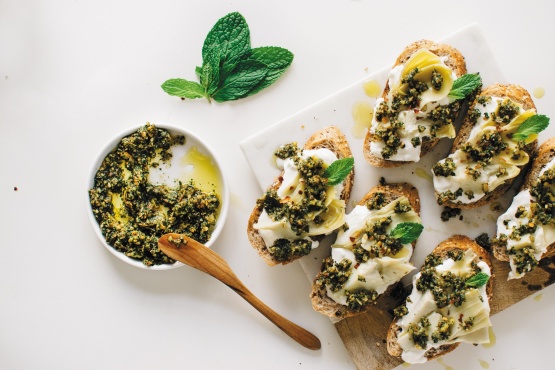 Text excerpted from KALE & CARAMEL © 2017 by Lily Diamond. Reproduced by permission of Atria Books. All rights reserved.
These adorable little toasts are a paean to my arrival in Los Angeles, and the first meal I ever had at Gjelina. I was still discovering the thrum of LA, navigating my love-hate relationship with it, the way its concrete vibrates with creativity, the way the heat crawls along the asphalt, the way everyone constantly strives to be better, thinner, prettier, cooler, brighter, smarter, sexier, truthier. I tumbled through the rough and chic beach streets of Venice to meet a friend as instructed, at a place that was then simply another restaurant with two consecutive consonants in its name. But then Gjelina opened its doors to me, swallowed me up in its cool metal and glass and midnight-blue tones and fed me the best food I'd ever tasted. There was a complexity to its vegetables that summoned me to show up for plant life in a way I never had before. And yes, I'll admit: There was a lot of burrata—that creamier, fairer, far richer cousin to mozzarella.
These toasts are an ode to that afternoon, the magic of finding beauty within heat and dust and asphalt and dreams. Roasting lemon simultaneously strengthens its citrus flavor and mellows its acid; when paired with mint and hazelnuts, this pesto is the perfect vehicle for the mild salt of burrata and artichoke.
Make the Pesto:.
Preheat the oven to 450 degrees F. Line a small baking sheet with parchment paper and lay the lemon slices in a single layer on the sheet. Drizzle with 1 tablespoon of the oil. Roast for 15 to 17 minutes, until the juices are tacky and the lemons are beginning to caramelize. Let cool for 10 minutes, then transfer to a small food processor, add the remaining 1⁄4 cup plus 2 tablespoons oil, the mint, hazelnuts, garlic, and salt and blend until you have a very lightly chunky pesto.
Make the Tartines:.
Gently toast the sliced baguette or bread to the desired crispness. Drizzle with oil, dollop with burrata, add an artichoke heart or two, top with pesto, and finish with a couple of fresh mint leaves and red pepper fakes.
Recipe courtesy of Kale & Caramel by Lily Diamond. Get the book here: https://www.amazon.com/Kale-Caramel-Recipes-Heart-Table/dp/1501123394.