Burnt Almonds in the Microwave
Marlitt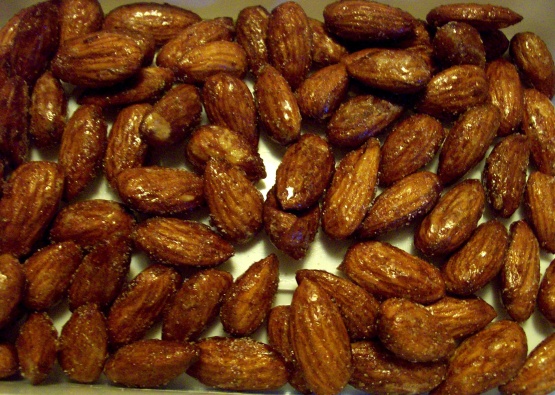 One of my favorites. A friend of mine showed me this and they taste just like the ones you can buy off the vendors at the trade shows. This are really quick with no mess (something I don't mind at all). Great snack for watching those sporting events like the Superbowl.

Top Review by robd16
This was so easy and mess free, not fiddly at all like so many other similar recipes. The don't taste 'burnt' as such but the colour is quite dark. after they had cooled somewhat, before becoming hard I seperated the nuts and covered them in icing sugar so they would stay seperate. I thought they could have been a little more crunchy, perhaps another 30 sec to 1 min more in the microwave would help. Other flavours would work really well too and I just love the fact they were so easy! thanks, this is a great recipe
In a glass or ceramic microwaveable dish mix all ingredients stirring to make sure everything is mix well. Do Not use a plastic dish for this because it gets hot and melts.
Microwave for 4 minutes at 600 watts.
Take out and stir.
Put back in the microwave for another 2 minutes.
Take out and spread an a sheet of foil to cool off.