Burning Love Chocolate Cream Cake
lisasol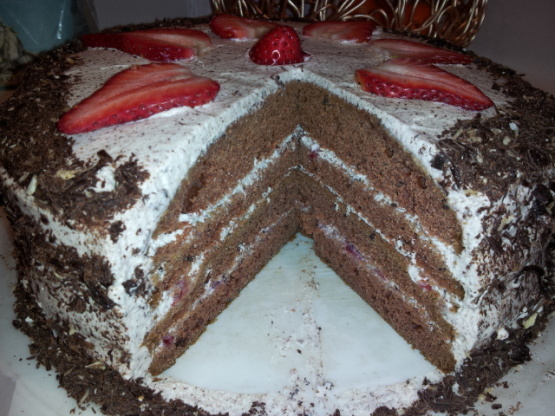 A very rich and decadent cake. Great for a diner party or Valentine's day treat. Sinfully Rich!

Made this cake for my boyfriend, and it was delicious. I didn't have cocoa powder for the whipped cream, so I just grated some dark chocolate and used that instead. Pictures are attached. Decorated it with chocolate shavings and strawberries.

I also chopped up strawberries and mixed them in with the cream I used for the filling in between layers. So good!

Tip - this cake is much better at room temperature. The first slice I had was when I took it out of the fridge and the cake was a little dry. I had more the next morning, and had left the cake out on the counter. It was so much better!
Melt chocolate in a small bowl over hot (hot boiling) water and cool.
Grease and flour two 9x11/2-inch pans.
Tap out excess flour.
Sift flour, baking soda and salt onto waxed paper.
Preheat oven to 350°.
Beat butter, sugar and eggs in a large bowl with electric mixer on high speed until light and fluffy.
Beat in vanilla and cooled chocolate.
Stir in dry ingredients, alternating with sour cream and beating well with a spoon until smooth.
Stir in water (Batter will be thin).
Pour into pans.
Bake for 35 minutes or until centers spring back when lightly pressed with fingertips.
Cool in pans 10 minutes, then turn on wire racks and cool completely.
Split each layer in half crosswise to make 4 thin layers.
Fill and frost with Whipped Cocoa Cream.
Refrigerate.
To make Whipped Cocoa Cream combine listed ingredients in a chilled medium size bowl.
Whip ingredients in chilled medium bowlwith chilled beaters until stiff.
You can quickly chill the empty bowl and beaters by putting them in the freezer for 15 minutes or so while the cake is cooling.