Burmese Veggies With Hot Peppers
Zurie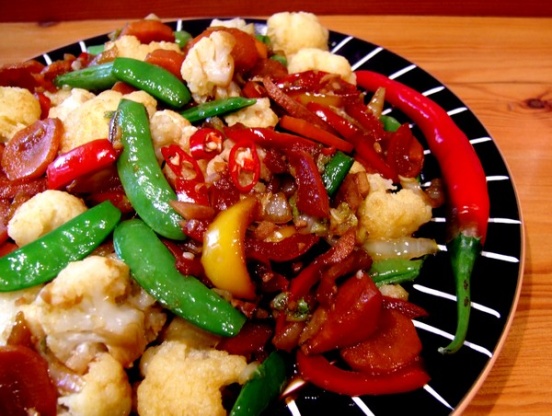 A simple Burmese recipe kicked up with hot peppers! Adapted from RecipeSource.

Top Review by Zurie
Healthy and colourful! There are 5 1/2 veggies in this one dish!;) I used sliced Chinese cabbage, as I could not get bok choy, and I used yellow bell pepper instead of green (don't like the taste of the green very much). I also used more red chillies, as I thought 1/8 teaspoon was really not enough! And I added some chopped fresh ginger as well. Dripped over sesame oil as a finishing touch, and voila! A one-pot (or one-wok) veggie side dish which was perfect with meat and rice leftovers tonight! Oh, I did make a salad, too. Thanks you, Sharon, for a lovely, healthy veg dish!
In a large saucepan or wok, heat the oil over high heat until hot but not smoking.
Toss in the vegetables and seasonings and stir-fry for 3 to 6 minutes, stirring 5 to 7 times. The vegetables should be slightly crunchy.If you would like them a little more tender, cook a few minutes longer. Season to taste with salt and pepper. Drizzle over sesame oil, if using. Enjoy!
Remove from the heat and serve.
Serve with brown rice or noodles.