loof751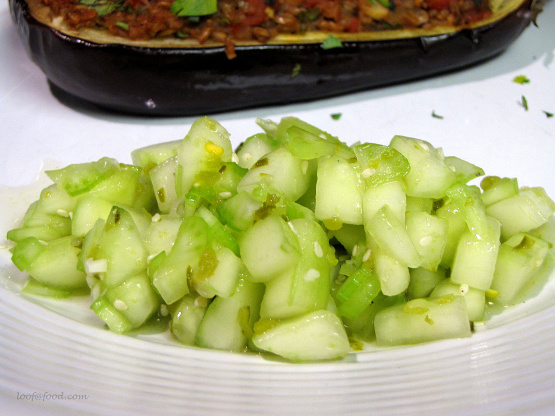 The Burmese are a relaxed people and eat simple. This is a simple but very good and spicy salad. Enjoy! Adapted from a Burmese Food and Drink site.

the taste was wonderful but a little dry for our tastes so I drizzled it with a little olive oil, I also added some freshly ground black pepper, thanks for sharing hon!
Mix cucumber, sugar and vinegar in a bowl. Set aside.
To toast sesame seeds, place in dry skillet over medium high heat and, stirring frequently, cook 2-3 minutes, or till seeds start to turn brown. Watch closely so they don't burn.
Place toasted sesame seeds in food processor or mortar and pestle. Pulse to crush slightly, or if using mortar and pestle, crush slightly.
Just before serving, mix with sesame seeds, green chiles, celery and garlic.
Mix well and serve.