Boomette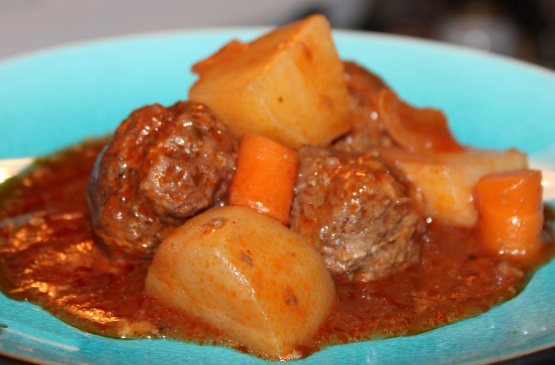 This recipe has been lost for years and I have just found it, my Dad was the cook in the family growing up and my sister and I always loved this simple and delicious stew. Very kid friendly and flexible. Would be great for OAMC( you could use frozen meatballs)and could be adapted to a crockpot, would double or triple easily. Enjoy

Top Review by LizCl
Absolutely delicious. Easy to make. I made it in a crockpot and cooked it on high for 5 hours. Thanks for a great recipe.
Combine beef, breadcrumbs, onion, egg, salt, pepper and thyme; shape into 1 1/2 inch meatballs.
In a large flameproof casserole or dutch oven, heat butter and oil; brown meatballs lightly on all sides.
Drain excess fat and add remaining ingredients except parlsey, flour and water.
(Recipe may be made ahead to this point and refrigerated).
Cover and bake at 400 degrees for about 45 minutes or until vegetables are tender.
Taste and adjust seasoning.
During last 15 minutes of baking, thicken sauce with 2 tbsp flour into 1/2 cup cold water.
Add parsley and serve.
Note; This casserole freezes well, baked.
Thaw completely and reheat at 350 degrees for 30 minutes.
You can also freeze in tubs and pop into a crockpot to reheat.