Burgundian Beef and Beans
christie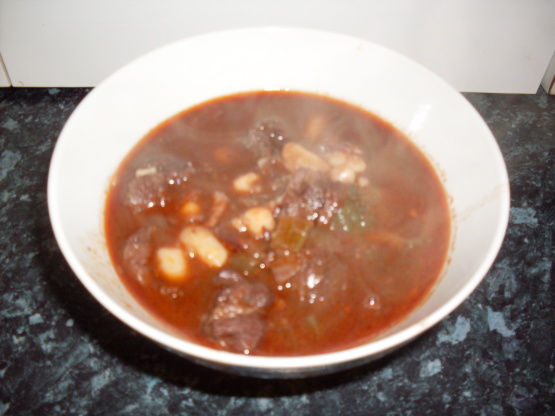 This is an absolutely fabulous winter warmer! It is so simple to make and just wonderful on those cold nights.
This was a very nice recipe, I enjoyed the wine flavor and the white beans where a different touch. I shredded my carrot to cut back on cooking time.
Trim the beef and cut into 2cm (3/4 inch) cubes.
Heat half the oil in a heavy saucepan and brown the meat quickly in batches. Remove to a plate.
Add the remaining oil with the onion, garlic and bacon and cook gently until the onion is soft.
Add the carrot, celery, wine and tomato paste.
Return the beef to the pan along with the bouquet garni.
Season with a little salt and pepper to taste, cover and cook for 1 1/4 hours or until the meat is just tender.
Drain the beans and add to the pan.
Cover and simmer for 20 minutes.
Serve with a nice crusty bread.