Burgers With Sauteed Onions and Horseradish Sauce
lazyme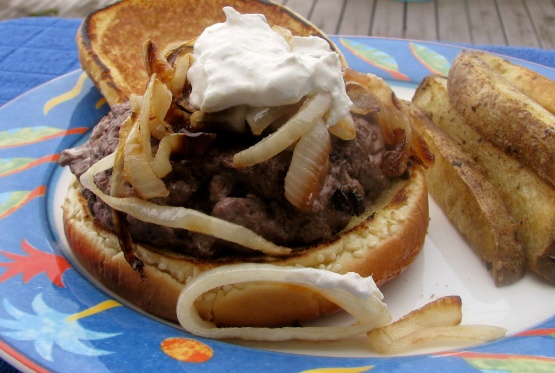 Love these burgers. Taken from Cooks Illustrated magazine.

Oh what a wonderful dish....especially if you love onions and horseradish like we do. This went over very well and the sauce was delicious!!! Thank you for posting. Made for Cooking Tag Mania 2013.
In a bowl, combine first 4 ingredients and season with salt and pepper.
Set aside.
In another bowl, gently knead the meat with the garlic, seasonings until well combined.
Shape into 4 patties.
Heat a medium sized pan to medium high heat.
Add the oil and saute the onions until browned.
Remove from pan and keep warm.
In same pan, add the patties, cook until browned on both sides and cooked to desired doneness.
Toast buns.
Place patties on bottom buns, divide oinions on burgers and top with horseradish sauce.
Top with remaining bun top.