Redsie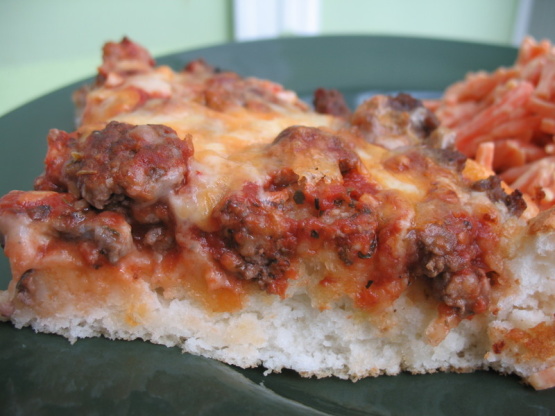 My mom made a variation of this when I was a child. It's great for a quick weeknight dinner, and your kids will love it. The original recipe called for Swiss cheese cut into strips, and then placed like spokes on a wheel, but I think it is better with shredded cheddar covering it all. Try it either way.

I just made this and the flavor is really good! I wanted more crust so I did 2 cups of bisquick. I added an onion to my ground beef mixture (half diced and the other half in rings). Then I covered the biscuit crust with the ground beef mixture(which was seasoned with cinnamon, garlic salt, red pepper flakes, brown sugar,white pepper, and fresh cilantro).Added a layer of 1 can of corn, tomatoes, and okra. I then covered this with a layer of shredded carrots and about 3 small green tomatoes. I then added the sauce and stuck in the oven. In the last 5 minutes I added a small layer of cheese because the baby is lactose intolerant. It took a long time to get done but it was worth it. The only reason it's rated 4 stars is because I should have layered the tomatoes differently because there was a bit too much moisture.
Preheat oven to 400°F.
Brown the hamburger in a hot skillet, stirring to crumble as it cooks. When it is no longer pink, remove from heat and drain grease.
Mix Bisquick with skim milk. Adjust the mix & liquid as needed to get a good dough consistency that is not too sticky.
Spray a deep dish pie plate with cooking spray.
Press dough into the bottom and sides of pie plate.
Brush with oil.
Put remaining ingredients on dough in the following order: hamburger, salt, pepper, garlic, and oregano, and basil.
Cover with tomato sauce and parsley.
Sprinkle cheese over top.
Bake for 20 minutes.
Cut into wedges and serve.