Burger King Bk Big Fish Copycat
Kana K.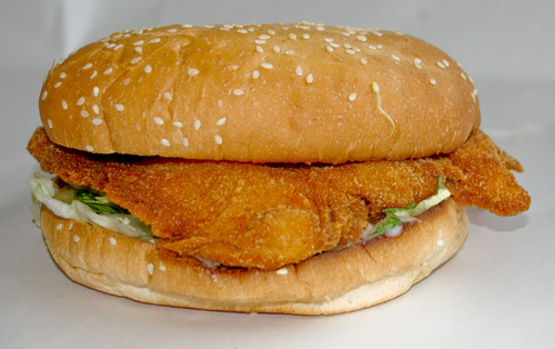 Burger King BK Big Fish copycat can be prepared in less than twenty minutes The secret to the delightfulness of this sandwich is in the BK Tartar Sauce.
- Beat egg white and milk together until well blended.
- Combine flour and salt in another bowl. Mix well.
- Dip the fish into the flour mixture, then the egg mixture, and then bread crumbs. Make sure they all coat the fish completely and evenly.
- Lightly spray a nonstick baking sheet with olive oil. Place the fish on the baking sheet.
- Bake in a preheated 450° oven for about 7 minutes (or until the breading is crisp). Flip the fish and bake for another 5 – 7 minutes.
- Meanwhile, toast the hamburger bun in a preheated skillet.
- Put the bun bottom on a plate. Top with fish, cheese, lettuce and tartar sauce. Flip the bun top onto the sandwich. And voila, a very yummy meal!
*BK TARTAR SAUCE - Combine ¼ cup mayonnaise, 2 tablespoons dill pickle relish and 2 teaspoons corn syrup in a bowl. Stir well. This should make about 1/3 cup tartar sauce and can be refrigerated for up to a month in an airtight container.