Bunneh's Bunny Rabbit Treats
newj07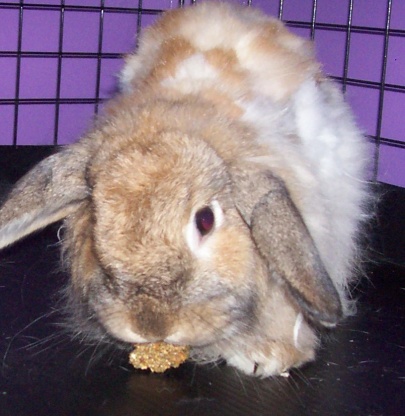 Bunneh LOVES these! After he has his treat, he thanks me by licking a hole in my arm, or darned near! You could replace the carrot with apple or pear, but keep in mind these are treats, not a regular diet/food, and should be given sparingly. For a bunny, 1 tablespoon of fruit a day is the maximum you should give your furball. Timothy hay pellets are the best type of pellets, Zupreem the best brand. Recipe adapted from Brenda Plaxton's.
Decided to make these for my bun bun, Ollie. She is infatuated with carrots so I added more than the recipient called for.... actually I doubled, tripled, quadrupled the recipie. I could possibly feed all the cottontails in the neighborhood and they would absolutely love these. Ollie thinks they are the best. A little too much I might add. My only question is if it should be soft a little bit on the inside or completely dry, like my grandma's chocolate chip cookies? Great recipie tho, I'm going to use this from now on.
1

small carrot (pureed or minced VERY fine)

1

banana (mashed until very creamy)

14.79

ml honey

59.14

ml rabbit pellets, ground finely in a coffee grinder

59.14

ml ground old fashioned oats, ground finely in a coffee grinder
Mix pureed carrot, mashed banana and honey in a medium bowl.
Add ground pellets and ground oats. Mix until blended.
Knead in your hands for 1-2 minutes. It'll probably be pretty sticky.
Place dough on large piece of parchment paper and cover with plastic wrap. Roll dough to about 1/8" thickness. Peel off plastic wrap.
Score flattened dough with large knife in 1-inch cross sections like tiles. You're not separating the tiles, just scoring them for easy breaking apart later.
Transfer parchment onto cookie sheet and bake at 325F for about 30-40 minutes, checking to make sure they don't over-brown.
Turn off the oven, leaving the cookie sheet in the oven for another hour until the treats dry to crispness.
Remove from oven and cool completely on cooling rack.
Break the tiles apart - easy! – and store in a zip lock bag in the fridge.
Give one to your bunny on each day that he/she is adorable. (That's every day, of course!).