Bundt Cheese Cake With Strawberry Sauce
2Bleu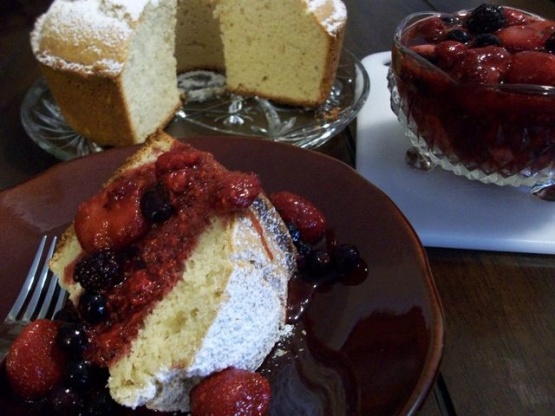 Make the sauce ahead of time, make the cake the next day to serve. Feel free to use assorted berries for the sauce. You can use frozen berries, just thaw slightly first.

Loved this cake & especially the sauce, even if I did leave out the Grand Marnier! I do enjoy cooking with things like that, but only if the alcohol is boiled off, leaving the intense flavor behind! Anyway, we did enjoy this cake, as did several guests, & another time, were I to make it for a potluck or to share at work, I'd definitely include everything! Thanks for posting this great recipe! [Tagged & made in Please Review My Recipe]
SAUCE: While cake is baking, make the sauce. In a medium saucepan, heat preserves, orange juice, and Grand Marnier until just warm and preserves are melted.
Remove from heat and stir in sliced strawberries and lemon juice. Cool to room temperature then refridgerate at least 4 hours to allow flavors to blend.
CAKE: Preheat oven to 350 degrees F. Grease and flour a bundt or tube pan and set aside. In a large bowl, combine biscuit mix, flour, baking powder, salt, and nutmeg and set that aside.
In a mixer bowl, using an electric mixer, mix together granulated and brown sugars, cream cheese and butter on medium speed until soft and creamy, about 4 minutes.
Beat in eggs, one at a time. Add milk and vanilla extract and dry (Bisquik) mixture and mix well. Pour into prepared pan, spreading evenly using a small rubber spatula. Bake approximatly 55 to 60 minutes or until a cake tester inserted into the center comes out clean. Let cool in pan for 10 minutes, then turn over onto cake dish, cool completely (fastest cooling time by placing it in the fridge). When completely cool, sprinkle with powdered sugar.
TO SERVE: Slice cake and serve with Grand strawberry sauce.