Bun Cha - Grilled Vietnamese Pork Skewered Recipe
gailanng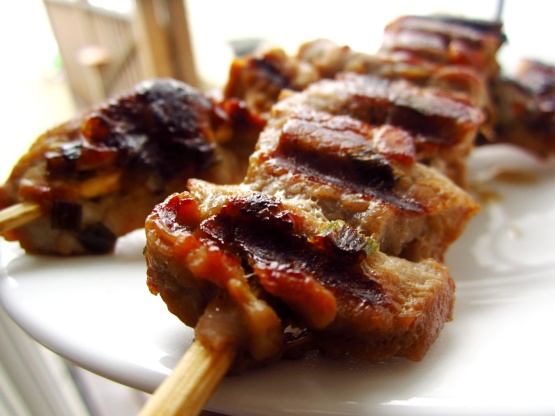 I love grilled Vietnamese pork. It's great served with rice and nuoc cham!

These were great. Both my husband and kids (4 and 5) love them! All I had was skinny boneless pork chops, so I didnt skewer them. Just marinated for 36 hours and then used a grill pan. Served with tomato rice and stir-fried cabbage. Will be making again for Tet.
In a large mixing bowl, combine the honey, hoisin sauce, fish sauce, garlic, spring onions, oyster sauce, salt and pepper, mixing well.
Add the pork, coating the slices well. Cover and marinate for 1 hour.
Meanwhile, start the barbecue fire. Soak the bamboo skewers.
When ready to eat, thread the meat strips on the skewers.
Don't be tempted to overload the skewers; skewers which are too generous will char on the outside by the time the inside is cooked.
Grill over medium-hot coals for 3 to 4 minutes, brushing the meat with the marinate.
When browned and cooked, remove from the fire and serve.