Bun Bo Hue (Spicy Hue Style Noodle Soup With Lemongrass)
rpgaymer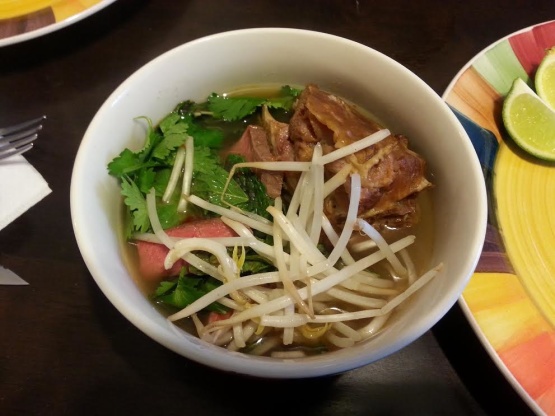 My parents are from Hue. Although growing up in Sai Gon, I am a big fan of this noodle soup. Cooking and eating bring me back memories of the old time
A good soup, and a meal in itself. I used smoked turkey necks instead of ham hocks, and instead of adding pork I doubled the amount of beef sirloin. I used half the amount of noodles, and this still made way more than four servings... but I like having leftovers anyway. The fresh herbs and sprouts really are what this soup is all about- it's not nearly as good without them.
Bring 2 1/2 quarts water to a boil; add ham hocks and lemongrass.
Skim constantly for 10 minutes then cover the pan, reduce heat and simmer for 1 1/2-2 hours.
Strain the broth, reserving ham hocks if you desire them.
Dilute the shrimp paste in 1/4 cup of cold water and set aside for 10 minutes.
Add nuoc mam, shrimp paste solution, sugar, salt and pepper,sirloin, and pork loin to the broth and simmer for 10-15 minutes or until meat is cooked and tender; remove meat.
Thinly slice meats into small pieces.
To serve, place a portion of noodles in serving bowl,top with some bean sprouts,pork, beef, and some ham hock (if using),and ladle the broth over; add herbs,chili sauce,chilies, and lime juice to taste.