Nimz1466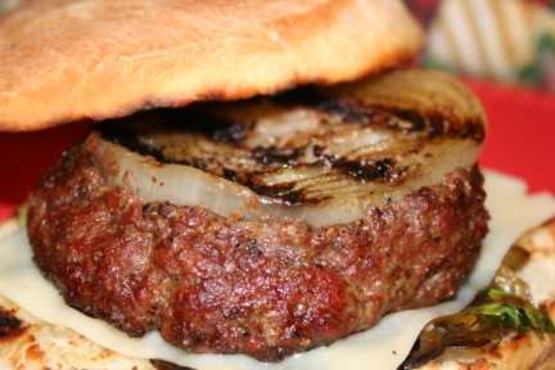 Saw this recipe in a magazine. I love fried onions on a burger and this variation sounds great. I kept their serving suggestion in the recipe but I'm sure they would be just as good on a bun!

This recipe definitely hits the bull's eye for flavor and presentation. In my experience, the secret to an awesome burger is using ground beef with 85/15 lean meat to fat ratio and topping the patty with caramelized sweet onions. Most of the meat's oil renders leaving a juicy and tasty patty with very little remaining fat. Since I had to toss my grill which rusted from Florida's humidity, I cooked the burgers in my oven. After roasting the onion slices brushed with olive oil at 375F degrees for 20 minutes, I flipped the onion disks, pressed the patties on top, and baked (onion side down) for another 20 minutes without flipping. On a wire rack in a separate baking pan, I simultaneously roasted the kale during the last 15 minutes of baking. While the Vidalia onions caramelized to be tender and sweet, the hamburgers browned and the kale crisped with ease. Thank you, Marg, for a flavor combination that rivals any gourmet burger!
Peel and cut onion into four 1/4-inch-thick slices; reserve remaining onion for another use.
Shape meat loosely into four 1/2-inch-thick patties; sprinkle with garlic powder, salt, and pepper.
Press 1 onion slice into the center of each patty and shape meat around onion until top of onion is flush with the surface of the meat patty.
Place patties, onion side up, on grill.
Grill for 10 to 13 minutes or until meat is done, carefully turning once halfway through grilling with a spatula once meat firms up. Turn carefully to keep onion intact.
Lightly brush kale leaves with oil and add to grill the last 1 to 1 1/2 minutes of grilling.
To serve, place 2 kale leaves on each bread slice. Top with a slice of cheese, then the meat patty, onion side up.