Bec6206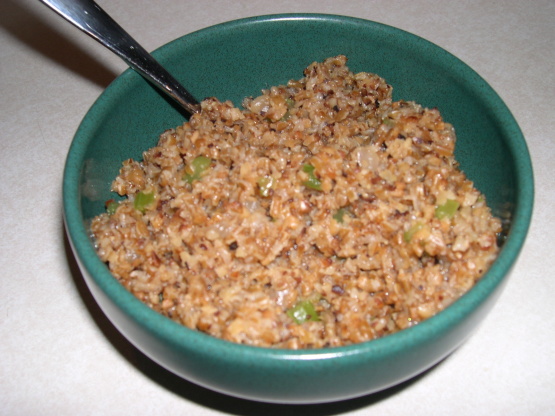 A side dish from "Cooking a la Heart"- Delicious Heart Healthy Recipes from the Mankato Heart Health Program, 1988. I recently "discovered" Bulgur wheat, and since then I have been making it all the time! It is such a good change from rice! For this recipe, I halved it as my own little lunch/snack. I used Hodgson Mill All Natural Bulgur Wheat with Soy Hot Cereal, 1 cube of regular beef bouillon, and simply sprinkled in some dried parsley flakes. Also, I didn't use margarine or butter, rather, I sprayed the saucepan with butter-flavored Pam. It turned out great!
In a medium saucepan, melt margarine.
Stir in bulgur, onion and celery.
Cook over low heat, 10 to 15 minutes.
Stir in water and beef bouillon; bring to a boil.
Reduce heat, cover and simmer for about 15 minutes or until bulgur is tender and water is absorbed.
Stir in parsley.